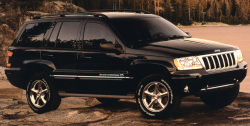 — Owners of older Jeep Liberty and Grand Cherokee SUVs might have more to worry about other than exploding gas tanks from rear-impact accidents.
In November, 2012, Chrysler recalled 920,000 model year 2002-2003 Jeep Liberty and 2002-2004 Jeep Grand Cherokees after a federal investigation found problems with an air bag control module.
Owners had complained about air bags that would deploy without a crash or any type of impact to the vehicles. Some drivers reported the air bag warning light activated just seconds before the air bags deployed, while other owners said they received no warning at all
No crashes were reported, but some drivers suffered burns, cuts and bruises to the their upper body.
Chrysler originally said the circuitry of something called an "air bag squib filter" inside the occupant restraint control module could degrade over time and cause the air bags to deploy for no reason.
The recall was ordered so dealers could install an in-line jumper harness with an electrical filter for the air bag module. This was supposed to fix the problem, however, Chrysler now says it knows of six SUVs that had air bags deploy without a crash. All six had been "fixed" under the 2012 recall.
The National Highway Traffic Safety Administration has opened what it calls a "recall query" to determine if the original recall remedy failed and if the Libertys and Grand Cherokees should be recalled again.