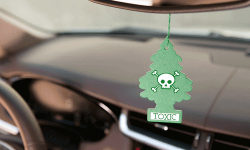 — Who doesn't appreciate that new car smell that comes along with that new car sitting in the driveway? Apparently a New Jersey man didn't really appreciate it after purchasing a 2012 Toyota Prius.
Thomas Meyers has filed a lawsuit against Toyota alleging the interior of his Prius caused him lesions on his legs and upper body, all within 24 hours of owning the car. Meyers claims he also suffered swelling of the lips, breathing problems, and neurological problems that he believes may be permanent.
The lawsuit, filed in Superior Court in Camden, New Jersey, blames Toyota for negligence and failure to properly design and make a car without defects. Meyers says all his problems were caused by exposure to interior components of the Prius.
Meyers says he previously owned a 2011 Prius and had no reactions to that car. According to the Ecology Center, the 2011 Toyota Prius ranked second-best for interior chemical emissions, however, there was no data on the 2012 model year Prius.
According to the Ecology Center, chemicals found in plastics and other parts of the interior have been linked to a wide range of health problems such as allergies, birth defects, impaired learning, liver toxicity, and cancer.
The lawsuit accuses Toyota of gross and reckless disregard because they didn't warn consumers of the alleged problems.
Toyota says their vehicles are safe and the lawsuit is without merit. They are requesting the case be moved from state to federal court.