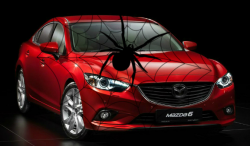 — Spiders can cause fear and panic in many people, but spiders in a vehicle can cause a recall of 42,000 cars. Mazda is recalling model year 2010-2012 Mazda6 cars because spider webs can cause a gas leak.
It's not the first time spiders have caused an automaker to issue a recall. Mazda recalled 52,000 model year 2009-2010 Mazda6 cars in 2011 because of the exact same problem.
In October, 2013, Toyota recalled 803,000 model year 2012-2013 Camry, Camry Hybrid, Avalon, Avalon Hybrid, and Venza vehicles because spider webs could clog an air conditioning drain hose.
Mazda says the problem occurs in the canister vent hose where spider webs can block the hose and cause the gas tank to maintain too much negative pressure.
Gas could start leaking because negative pressure can cause the gas tank to crack, which means a fire is possible if the gas hits an ignition source.
Mazda says the affected Mazda6 cars are equipped with 2.5L engines and were manufactured September 14, 2009, through May 2, 2011.
The Mazda6 recall should start sometime this month. Mazda dealers will reprogram the powertrain control module and clean the canister vent line. The gas tank and check valve on the canister vent line will be replaced if a spider web is found in the line.
If eight-legged critters have invaded your Mazda6, contact Mazda at 800-222-5500 and scream this recall number to customer service: 7214C