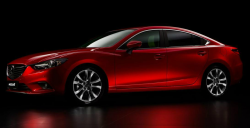 — Mazda is recalling about 100,000 Mazda6 cars for faulty tire pressure monitoring systems. Mazda didn't say which model years are recalled, but the automaker did say the cars were manufactured October 25, 2012, through October 10, 2014.
Mazda says the tire pressure warning light must activate within 20 minutes if tire pressure drops 25 percent below the recommended tire pressure. The light must illuminate in that time period for up to four tires at once, but Mazda says deflation tests showed the monitoring system doesn't work.
The automaker says it is unaware of any accidents or injuries related to the defect.
Mazda didn't say much about the recall other than dealers will need to reprogram the anti-lock braking system module.
Affected Mazda6 owners will be receiving recall notices in the coming days as Mazda said recall notices went out in the mail on October 31, 2014.