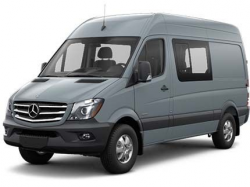 — Mercedes-Benz is recalling over 8,200 vans because leaking oil from around the chain tensioner gasket area could cause a fire. Mercedes-Benz lists the vans as the 2014-2015 Sprinter 2500 and Sprinter 3500.
Mercedes-Benz found problems with the chain tensioner leaking in a vehicle outside the U.S. An investigation determined the chain tensioner wasn't torqued in the engine block. Further testing found variations in the gasket material tolerances caused the problems. The testing showed the affected vans were manufactured February 28, 2014, to November 21, 2014.
Leaking oil could cause numerous problems, including oil dripping on the road and making it dangerous for other drivers and that same dripping oil hitting a hot surface.
Mercedes-Benz owners should have received notification by now to get the vans to a dealership to replace the chain tensioner gasket.
Owners may contact Mercedes customer service at 877-762-8267 and give them recall number 2014120003.