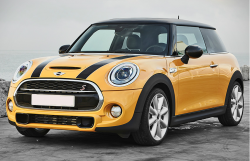 — A MINI Cooper gas mileage lawsuit has been filed in a Florida federal court just two weeks after the federal government ordered the fuel economy values lowered on the model year 2014 MINI Cooper.
The lawsuit alleges BMW misrepresented the fuel economy of 2014 MINI Cooper and MINI Cooper S 3-door cars with both semi-automatic and manual transmissions.
Plaintiffs Karen and Michael Jarvis claim they bought their 2014 MINI Cooper after relying on advertising for the MINI Cooper. The advertised miles per gallon (mpg) rating was 40 mpg highway, 29 mpg city, and 33 mpg combined city/highway driving.
However, the lawsuit says the real mpg values are 39 mpg highway, 28 mpg city and 32 mpg combined city/highway driving.
The lowered mpg values are based on tests performed by the Environmental Protection Agency (EPA) which said the 2014 MINI Cooper was advertised with inflated mpg ratings. The EPA required BMW to re-label four 2014 MINI Cooper models.
The plaintiffs claim they relied on the mpg values in deciding to buy the MINI Cooper but were misled into buying a car of a quality different than they were promised.
The MINI Cooper lawsuit alleges the plaintiffs paid a higher price for the car than they would have paid if accurate fuel economy values had been advertised. Further, the plaintiffs say they are incurring higher fuel costs than they otherwise would have and their MINI Cooper will now have a lower resale value.
The lawsuit alleges BMW should have known the 2014 MINI Cooper mpg values were false, and yet BMW negligently misrepresented and/or negligently omitted material facts about the MINI Coopers.
The MINI Cooper gas mileage class-action lawsuit was filed in the U.S. District Court for the Middle District of Florida - Jarvis, et al. v. BMW of North America LLC.
Karen and Michael Jarvis are represented by Bursor & Fisher PA.