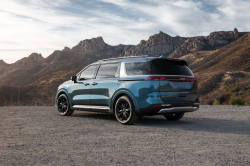 — A Kia Carnival recall has been announced because the vehicles could catch fire, and Kia is warning 2022-2023 Carnival owners to park outside and away from anything that could burn.
More than 3,600 Kia Carnivals may have problems with the tow hitch harnesses that were either installed as original equipment or purchased as accessories through Kia dealerships.
According to Kia, water can accumulate on the tow hitch harness module printed circuit board and cause a short-circuit. It's the short-circuit than can cause a fire.
This is a problem Kia has faced before. In August 2022, Kia recalled its Tellurides because of the same fire risk from tow hitch harnesses which caused six fires.
In this Kia Carnival fire recall, a fire can occur while driving or with the ignition shut off.
The automaker says the printed circuit board in the Carnival trailer tow hitch harness module may be susceptible to water that comes through the trailer tow hitch harness wiring connector.
Kia Carnival recall letters will be mailed May 16, 2023, and dealers will verify the minivan is equipped with a genuine Kia trailer tow hitch assembly. If the assembly is installed, Kia dealers will install new fuses and wire extension kits.
Owners with concerns about the risk of a Kia Carnival fire may contact Kia at 800-333-4542.
The Kia Carnival tow hitch harness recall number is SC265.