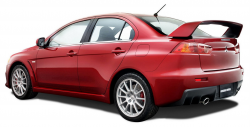 — Step aside for a minute Ford and General Motors, Mitsubishi has announced a huge recall of its own with word that 920,000 cars need their light switches fixed.
The cars include the 2003-2008 Mitsubishi Lancer and eK series, the vast majority located in Japan and areas outside the U.S. Mitsubishi says the light switch could crack and cause a failure of the headlights and blinkers.
The automaker will need to fix the light switch, which means replacing just a plastic part of the switch or the entire switch, whatever it takes to fix the problem. Either way, expect to wait at least 30 minutes for your switch to be fixed.
Mitsubishi hasn't said when the recall will begin, but with questions contact the automaker at 800-222-0037.