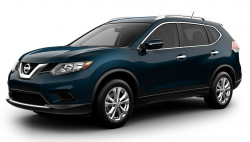 — It looks like the 2014 Nissan Rogue might be starting to earn its name as it causes Nissan more problems, this time for the possibility the right wheels could fall off.
About a week ago, Nissan recalled the 2014 Rogue because a bolt could fall out of the steering column and cause steering failure.
Nissan said 334 model year 2014 Rogue, Pathfinder and Infiniti QX60 vehicles might have loose lug nuts on both right wheels. The automaker discovered the problem in February when a right-hand automated air tool failed to tighten the lug nuts. An inspection of 2,293 vehicles at the Nissan plant identified 52 vehicles that contained a loose lug nut.
A single loose lug nut on a wheel probably wouldn't cause any serious issues until it fell off and caused other lug nuts to loosen.
The recall should start this month. Nissan dealers will inspect and tighten any loose lug nuts.
Owners of the affected Rogue, Pathfinder and Infiniti QX60 vehicles can call Nissan at 800-647-7261.