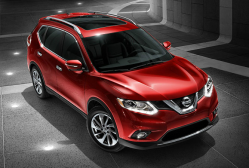 — To stay between the lines you'll need a steering wheel that works, at least until you're sitting in a driverless car. If you drive a 2014 Nissan Rogue, steering the SUV might be an issue because Nissan says a bolt could fall out of the steering column.
Over 1,600 Nissan Rogue crossover SUV's are recalled because they might have an incorrect bolt that connects the intermediate shaft to the upper steering assembly.
Nissan discovered the problem in January when engineers heard a rattling sound during a routine test drive. An internal investigation found the wrong type of bolt was used at the Smyrna, Tennessee, plant between January 10, 2014, and January 17, 2014. The bad bolt could loosen and and fall out, which means you'll be steering the Rogue for nothing.
Nissan has ordered dealers to stop selling the 2014 Rogue until every SUV is inspected and fixed. The recall is planned to begin by the end of June, 2014.
If you hear a rattle coming from your 2014 Rogue, stop driving and call Nissan at 800-647-7261.