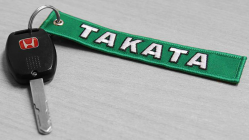 — As air bag manufacturer Takata faces a probable class-action lawsuit over exploding air bags, a fourth person has died with wounds consistent with injuries from metal flying from an air bag.
Hien Tran, 51, was involved in a Florida crash where her Honda Accord hit another car and triggered the Takata-equipped air bag in the Accord.
According to the Florida Highway Patrol, paramedics saw deep cuts on the right side of Tran's neck that didn't appear to be consistent with crash injuries. The cuts on her neck were so severe the authorities first believed someone must have attacked Tran before she fled in her car and investigators released information about a "person of interest" in a possible homicide.
Tran died on October 2, 2014, four days after the accident.
Now the Orange-Osceola County chief medical examiner says the deep cuts on the neck were caused by metal shrapnel flying out of the Takata air bag as it deployed during the crash.
Dr. Jan Garavaglia said Tran had other serious head injuries in addition to the stab wounds on the neck, so the neck wounds didn't necessarily kill Tran. However, Dr. Garavaglia said the exploding air bag did cut Tran's trachea and the final autopsy report will show what effect the air bag had on her death.
As with Hien Tran, the other three Takata air bag fatalities occurred in Honda vehicles. Two fatalities occurred in 2009 and a third occurred in 2013.
Honda did recall a limited number of 2001 Accord and Civic models in 2008 because the driver-side air bag could explode from a faulty metal inflator inside the air bags. The recalls were expanded over the years and investigators are now trying to confirm why these death reports are tied to Honda cars.