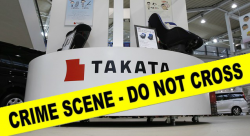 — Air bag maker Takata is facing a criminal investigation over exploding air bags after a federal grand jury in New York subpoenaed documents related to the defective air bags. It's the first time U.S. investigators have actively sought evidence of what Takata has known about the exploding air bags.
The air bags have caused the recalls of millions of vehicles after reports of occupants receiving serious injuries from shrapnel exploding out of the air bags. Along with reports of injuries, five deaths have been connected to Takata air bags installed in Honda vehicles.
Those fatalities in Honda vehicles got the automaker attention it doesn't really want when the National Highway Traffic Safety Administration opened an investigation into allegations Honda under-reported air bag deaths and injuries. In addition, both Honda and Takata are targets of lawsuits that allege both companies knowingly hid the air bag dangers from the public.
Takata has provided different reasons why the air bags explode, but what is absolutely known is the metal inflator canisters can explode when the air bags deploy. What is supposed to be a safety feature to protect you in a crash can suddenly become the very thing that can kill you.
Takata says it is increasing its production of the replacement air bag inflators to keep up with demand after numerous recalls from Mitsubishi, Honda, Toyota, Subaru, Mazda, Ford and BMW.
News of the Takata criminal investigation comes at the same time the U.S. Senate Commerce Committee said it will convene a hearing on November 20, 2014, to get more information about the exploding air bags. It's expected that Honda and NHTSA will also be involved in the hearing.