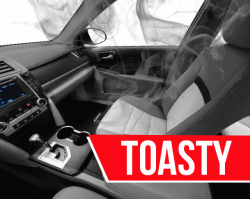 — Heated seats might be nice in the winter, unless the seats are so hot they go up in smoke. Toyota might have to recall about 36,000 vehicles because the seat fabric could possibly catch fire.
Although the National Highway Traffic Safety Administration (NHTSA) hasn't ordered a recall, Toyota has told dealers to stop selling six popular models:
All affected models include only those vehicles with heated seats.
The problem stems from a layer of fabric that doesn't meet U.S. flammability standards which mandate fabrics resist flames at a certain rate.
Toyota said there are no reports of fires or injuries and a recall isn't necessary. However, NHTSA could order a recall if they believe a safety defect exists.