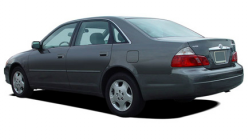 — In the midst of General Motors recalling 2.5 million cars because of ignition switch problems and Nissan recalling 1 million vehicles for air bag problems, along comes Toyota with a recall of their own.
Except, the Toyota recall involves "only" 119,000 cars, which is actually a large number of cars unless you're part of GM management.
Toyota says they will recall model year 2003-2004 Avalons because the air bags could deploy while you're cruising down the road, no crash needed. The problem is a little different than most air bag recalls because the Avalon problem is caused by electrical noise from other electrical components.
Toyota says the electrical noise could damage components in the air bag control module, a problem that dealers will fix by adding an electrical noise filter to the air bag control module.
The National Highway Traffic Safety Administration hasn't released word of when the recall will begin, but affected Toyota Avalon owners should watch for a letter in the mail.
Owners of model year 2003-2004 Avalons can contact Toyota at 800-331-4331.