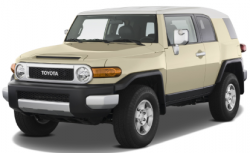 — Toyota is recalling about 1,800 model year 2014 FJ Cruiser SUVs because loose bolts could cause a loss of steering. Toyota says the SUVs are equipped with the optional Trail Teams Ultimate Edition package with specialized traction control and suspension.
There are two bolts that attach the front lower ball joint to the steering knuckle. Toyota says those bolts might not have been tightened when the shocks and springs were installed. If a loose bolt falls out the lower ball joint could separate from the steering knuckle.
Say goodbye to steering control if that happens, although Toyota says it is unaware of any accidents or injuries related to the defect.
The recall should begin in late September 2014. Toyota dealers will tighten any loose bolts and replacing any that are missing.
With questions about the 2014 Toyota FJ Cruiser loose bolt recall, contact the automaker at 800-331-4331.