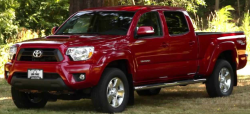 — Two weeks after Toyota recalled its FJ Cruiser for a loss of steering control, Toyota is recalling 20,000 model year 2008-2014 FJ Cruiser SUVs and Tacoma trucks.
The automaker says the vehicles have tire placards with incorrect cold temperature pressure readings. The vehicles left the assembly plants with the correct placards but when the tires were changed, a different placard was put on the driver-side B-pillar.
Incorrect labels are a violation of federal safety standards because the wrong tire pressure readings can cause tire failure.
The recall will begin in September 2014. Toyota might mail new overlay stickers directly to owners, but if not, dealers will have the stickers to place over the incorrect placard.
Owners of the 2008-2014 Toyota FJ Cruiser and Toyota Tacoma can contact Toyota customer service at 800-331-4331.
This is the fifth national action taken by Toyota in the past month. Along with the Toyota FJ Cruiser recall from two weeks ago, just days ago Toyota recalled 130,000 Tundra trucks with air bag problems.
In mid-August, Toyota agreed to perform a "service campaign" to fix brake problems in the Toyota Camry Hybrid after constant consumer complaints.
At the same time an independent Toyota distributor recalled 16,000 Tundra trucks with wheels that could fall off.
Read what owners say about their Toyota FJ Cruiser or Toyota Tacoma: