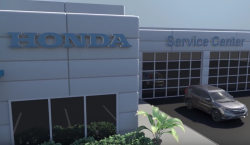 — Owners who have 2015 Honda CR-V vibration issues may get their day in court, all under one roof in a California courtroom. Numerous CR-V lawsuits were filed accusing Honda of selling new CR-V SUVs that vibrate so severely occupants can get sick.
The plaintiffs claim Honda technicians have been lost about methods to fix the vibrations and the automaker has been too slow in coming up with a fix.
Some owners report the vibration coming from the engine, while other CR-V owners say the vibration originates from the transmission. It's a toss-up which side is correct because Honda admits the vibration problems started with the use of a direct injection "Earth Dreams" engine in combination with a continuously variable transmission.
For its part, Honda knows about 2015 CR-V owners and their complaints about vibrations and shaking because the automaker posted videos in response to complaints (see below).
Honda says including the direct injection Earth Dreams engine and a continuously variable transmission enabled Honda to enhance fuel efficiency and increase engine torque. However, owners say they weren't told the engine/transmission combination would cause occupants to get nauseated.
The automaker says the vibrations are known to occur while stopped with the vehicle in gear, when driving between 1,100 to 1,500 rpm and when driving between 1,800 to 2,200 rpm. Honda says it created a software update to minimize the vibration for driving between 1,800 to 2,200 rpm. Additionally, the automaker says the shaking and vibration doesn't cause safety or operational concerns when driving the CR-V.
With 2015 Honda CR-V vibration lawsuits growing in number, the automaker requested all class-action lawsuits be consolidated before one California judge, something certain plaintiffs are against. One group of Honda owners want the lawsuits to be consolidated in Ohio because it would be a more centralized location for all members of the class-action lawsuits.
Honda argues consolidation should occur in California because American Honda Motor is based in Los Angeles. Furthermore, two of six pending CR-V lawsuits are located in California.
The proposed multidistrict litigation case is American Honda Motor Co. Inc. CR-V Vibration Marketing and Sales Practices Litigation.
Honda's original response concerning vibration issues in the 2015 Honda CR-V.
Honda's updated response concerning vibration issues in the 2015 Honda CR-V.