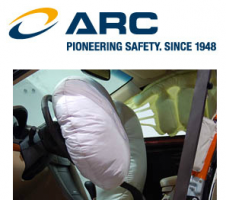 — The National Highway Traffic Safety Administration (NHTSA) has opened an investigation into incidents of exploding airbag inflators made by ARC Automotive.
The investigation includes about 420,000 model year 2002 Chrysler Town and Country minivans and 70,000 model year 2004 Kia Optima sedans. NHTSA wants to know if there is a common root cause that connects the exploding ARC inflator incidents.
Companies use ARC inflators in airbag modules that are sold to auto manufacturers. The subject inflator is a hybrid design that uses two separate sources of energy.
The inflator fills the airbag cushion by releasing a gas that is mixed with the explosive ammonium nitrate, with everything stored in the inflator under high pressure. However, the gas mixture is sealed in a steel housing unit and allegedly protected from outside elements.
NHTSA received a complaint about a 2009 accident involving a 2002 Chrysler Town and Country minivan, but the complaint wasn't received until December 2014. The complainant said the driver-side airbag inflator ruptured and caused serious injuries to the driver.
Fiat Chrysler said the airbag module was made by Key Safety Systems and used a dual-stage ARC inflator. Investigators believe the exhaust path for the inflation gas mixture may have been blocked by some type of object. This blockage appears to have caused high internal pressure which caused the metal inflator to explode into flying shrapnel.
The driver of the Chrysler Town and Country reported the driver-side airbag exploded when the minivan hit an object in a driveway. The exploding ARC airbag inflator sent shrapnel into the woman's chest, with the airbag plate breaking apart and striking her in the chin.
The woman suffered a broken jaw in three places and spent over three months in a trauma hospital. She now has permanent muscle and nerve damage in addition to problems eating caused by damage to the jaw.
The Kia incident occurred in a 2004 Kia Optima equipped with a Delphi airbag that contained a single-stage ARC inflator. Investigators haven't determined exactly what caused the airbag to explode, but Kia says one person sustained injuries.
NHTSA will use the investigation to contact all involved suppliers and car manufacturers for a determination if a safety defect exists.