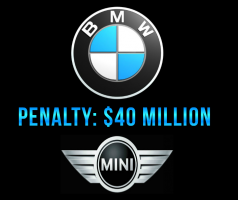 — BMW is in trouble once again with the U.S. government as the automaker will be forced to pay $20 million in penalties and put another $20 million in reserve in case the automaker fails to play by the rules.
Safety regulators said they found multiple instances in which BMW failed its customers and jeopardized public safety. The National Highway Traffic Safety Administration (NHTSA) said the penalty is to punish the automaker for failures in its recall practices and business procedures.
The penalty follows a NHTSA investigation into allegations the automaker failed to order a recall within five days of learning that MINI Cooper cars failed in side-impact crash protection tests.
In October 2014, a Mini Cooper failed a crash test which caused BMW to tell NHTSA the car was listed with an incorrect weight and would pass the test if conducted at the proper weight rating. However, BMW agreed to go ahead and order a recall to fix the incorrect weight rating on the tire information label.
BMW also said it would conduct a voluntary service campaign to add additional side-impact protection in the form of a small foam patch installed in the rear door panels.
In July 2015, another MINI Cooper failed a crash test at the corrected weight rating. The car shouldn't have failed the test because the vehicle had the additional side-impact protection installed. BMW then announced another MINI Cooper recall.
To its dismay, NHTSA determined BMW never started the service campaign for consumers, in addition to learning BMW had failed in numerous recalls since 2012. Those failures include delays in notifying owners and dealers about recalls and submitting recall completion reports on time.
BMW is required to pay $10 million in cash, spend at least $10 million meeting the consent order's performance obligations and $20 million in deferred penalties that will come due if the company fails again.
The automaker must also hire an independent safety "consultant" to help improve business practices and ensure compliance with safety issues. BMW is also required to launch a program to better establish ways to detect safety defect trends and to deter BMW dealers from selling new cars with known safety defects.
In 2012, NHTSA imposed a $3 million civil penalty against BMW for similar violations, and in November 2015, the Federal Trade Commission slapped BMW with a 20-year consent order over violations of warranty laws.
This latest order from NHTSA will remain in place for two years, subject to NHTSA's right to extend for an additional year.