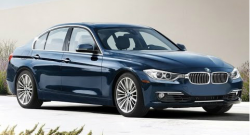 — BMW is recalling over 7,500 vehicles after a software update was found to cause the amber parking lights to fail. BMW says the recalled vehicles are as follows:
2012-2015 BMW 320i
2012-2015 BMW 320xi
2012-2015 BMW 328i
2012-2015 BMW 328xi
2012-2015 BMW 335i
2012-2015 BMW 335xi
2012-2015 BMW ActiveHybrid3
2014-2015 BMW 328xi Sports Wagon
2014-2015 BMW 328d
2014-2015 BMW 328xd
2014-2015 BMW 328xd Sports Wagon
On July 24, 2015, BMW learned of a problem with both front amber parking lights that were turned off when they should have been turned on. The parking lights failed on a car that had received a software update that had been released to dealers on June 15, 2015. The defect was traced to a bug in the new software used for the update.
On July 29, BMW sent dealers a service bulletin instructing them not to perform any programming or coding on any affected vehicles, then on August 6 the automaker decided to conduct a recall.
BMW said a driver won't have any warning the parking lights have failed, but the automaker said it's unaware of any accidents or injuries related to the parking lights.
The BMW parking light recall should begin October 9, 2015. Dealers are expected to upload revised software minus the original bug that caused the problem.
Affected owners can contact the automaker at 800-525-7417.