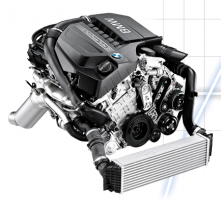 — What's the difference between a BMW TwinPower Turbo engine and a single turbocharged engine? According to a class-action lawsuit against BMW, the engine name is everything. Even where the word "twin" is used in a phrase has created legal questions.
The lawsuit says from model years 2007-2009, BMW manufactured its cars with the twin-turbo N54 engine which provided 8-cylinder engine levels of horsepower and torque while providing the fuel economy of a 6-cylinder.
However, BMW later changed the N54 engine to the N55 engine. While the N54 is a true twin-turbo engine, the newer N55 is a single-turbo engine, and therein lies the legal rub. BMW named the N55 single-turbo engine the "TwinPower Turbo," a name used to describe all BMW turbocharged engines since 2010.
The plaintiff claims the phrase "TwinPower Turbo" purposely is used to make people believe the cars have the more powerful N54 twin-turbo engines. Consumers who allegedly bought the cars with the newer N55 TwinPower Turbo engines were under the false impression they were getting the previous N54 twin-turbo engine, therefore getting a cheaper and less powerful engine.
Calling the TwinPower Turbo a "false twin," the BMW lawsuit says the automaker is guilty of false advertising in attempting to use the word "twin" in the name when the engine is actually a single-turbo engine.
While the focus is on the N55 engine, BMW has other engines (N20, N26, B38) the lawsuit claims are also "false twins."
Some of those vehicles are the 2014 BMW 228i, M235i, 320i , 328i, 335i, 428i, 435i, 528i, 535d, 535i, 640i, 740i, 740li, Z4 sDrive28i, Z4 sDrive35i and Z4 sDrive35is. The plaintiff claims all these cars are equipped with the "false twin" engines marketed as the TwinPower Turbo.
The BMW lawsuit says consumers have been damaged by BMW's misrepresentations, concealment and non-disclosure of the true nature of BMW's "TwinPower Turbo" engines. Further, BMW is accused of misleading consumers into purchasing or leasing vehicles of a quality different than they were led to believe they were getting.
The plaintiff also claims he paid more for the vehicle than he would have if the true nature of the BMW "TwinPower Turbo" engine had been disclosed.
The BMW TwinPower Turbo lawsuit was filed on behalf of all current and former owners and lessees of new and used BMW vehicles equipped with single-turbocharger engines that BMW calls "TwinPower Turbo" engines.
The BMW TwinPower Turbo lawsuit was filed in the United States District Court for the District of New Jersey - Deepkarn Bedi v. BMW of North America.
The plaintiff is represented by Shepherd, Finkelman, Miller & Shah, LLP.