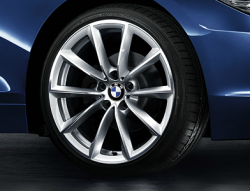 — A BMW Z4 cracked wheels lawsuit has reached the settlement stage as BMW agrees to cover the cost of replacement Z4 wheels and damaged tires under the warranty period.
The BMW Z4 cracked wheels lawsuit was filed by Barry Jekowsky after he was forced to pay over $2,000 to replace the V Spoke Style 296 alloy wheels and two tires that were cracking and splitting.
Jekowsky had leased the 2011 BMW Z4 with a warranty period of four years/50,000 miles and according to court documents, the cracked wheels occurred before 20,000 miles. Believing BMW would replace the wheels under warranty, Jekowsky took the car to a dealer who promptly refused to perform the repairs for free.
The Z4 lawsuit alleges Jekowsky wasn't alone because other Z4 owners had experienced the same problems. Additionally, BMW had allegedly been sued by owners of other BMW vehicles after wheels cracked and the automaker had refused to accept liability.
BMW tried to get the lawsuit dismissed and did succeed in getting two allegations dismissed, although the judge allowed the lawsuit to proceed based on charges of refusing to honor the implied warranty.
In the Z4 settlement agreement, BMW will reimburse members of the class-action lawsuit for expenses related to repairs or replacement of the wheels and/or on model year 2009-2013 BMW Z4 cars. The agreement applies to cars originally equipped with V Spoke Style 296 alloy wheels. BMW said it will also reimburse affected owners for expenses related to replacing the damaged tires if the damage occurred from the cracked wheels. The agreement applies to damages that occurred, or will occur, during the warranty period.
The BMW Z4 cracked wheels lawsuit was filed in the U.S. District Court for the Northern District of California - Barry Jekowsky v. BMW of North America LLC.
The plaintiffs are represented by Kemnitzer, Barron & Krieg, LLP.