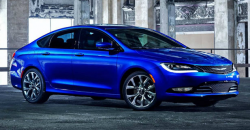 — Fiat Chrysler (FCA US) is recalling about 85,000 model year 2015 Chrysler 200 sedans to fix problems that could cause the engines to stall or the gearshifts to move to neutral.
FCA said an internal investigation revealed a problem with some type of electrical connectors that were damaged by the supplier. Chrysler hasn't said much about the recall but did say the problem won't affect the functions of the airbags even though a warning light might illuminate on the dashboard.
The automaker also said it's unaware of any accidents or injuries related to the defect.
FCA says most of the Chrysler 200 cars are in the U.S. (77,834), with about 7,115 in Canada, 848 in Mexico and 19 outside the NAFTA region.
Chrysler doesn't know when the Chrysler 200 recall will begin because the automaker doesn't have the necessary replacement parts. Dealers will replace the C4 connector using a 12 wire split kit for 3.6L engines, or replace the transmission wiring harness for 2.4L engines.
Owners will be notified of the recall on or around September 18, 2015, with second notifications mailed when remedy parts become available.
If you own a 2015 Chrysler 200 and have questions, contact Fiat Chrysler at 800-853-1403.