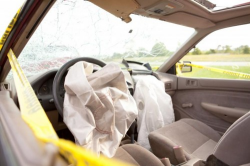 — Airbag manufacturer Takata said it won't create a compensation fund for victims of exploding airbags that send pieces of metal into car occupants.
U.S. Senator Richard Blumenthal had asked for the compensation fund based on what General Motors did after defective ignition switches killed and injured hundreds of people.
Although defective Takata airbags have been linked to at least eight deaths and over 100 injuries, Takata says a compensation fund isn't needed and the company is taking care of victims on an individual basis.
Honda Recalls
Takata's position was announced the same time Honda said it was recalling 4.5 million additional vehicles to replace the airbag inflators. This latest Honda recall doesn't involve any vehicles in the U.S., but Honda says at least 17 models are affected, including the Honda Fit, Stream minivan and Honda CR-V.
Honda said it's trying to determine which regions the recalled vehicles are located and no announcements have been made about when the recalls will begin.
As Takata's largest auto airbag customer, Honda has worked to find the root cause of the exploding airbags. Engineers believe the inflators in this latest recall might have problems with the gas-producing chemicals located inside the metal inflators.
Nissan Airbag Fire
Nissan has announced a metal inflator made by Takata has exploded in an SUV in Japan. The automaker said the passenger front airbag inflator in the X-Trail SUV exploded and caused a fire.
Nissan said the accident that triggered the airbag was minor and involved only the driver. The SUV was hit on the driver's side but the passenger-side airbag exploded with such force it blew out the window and sent flaming debris into the dash and started a fire.
Nissan believes it's the first time a metal inflator has exploded in Japan, while in the U.S. at least nine airbags have exploded in Nissan vehicles.