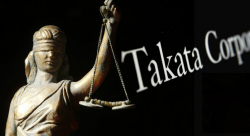 — Facing over 85 lawsuits and numerous investigations, it looks like airbag maker Takata now has more victims to deal with after additional reports of exploding airbags in Florida.
Honda confirmed the driver of a 2003 Honda Civic received neck injuries when the Takata airbag exploded in a March accident. Hospital records confirm shrapnel was removed from the driver's neck following emergency surgery.
The unnamed Honda driver said they did receive a recall notice to replace the airbag inflator on the 2003 Honda Civic, but the driver didn't get the notice until 10 days after the accident. Honda says it sent the owner two recall notices before the crash occurred.
In a separate accident from January, the driver of a 2002 Honda Accord lost over 50 percent of her left ear from an exploding airbag in a Florida crash. Fortunately for Sara Baker, 34, she didn't suffer nerve damage from the hot piece of metal that sliced half her ear off.
Takata has been at the heart of millions of recalled vehicles by 10 auto manufacturers, all to replace metal inflators inside the airbags. Takata is still studying the root cause of the exploding airbags, but the best evidence points to age, heat and humidity affecting the inflators.
To date, six deaths have been linked to exploding airbags in Honda vehicles.