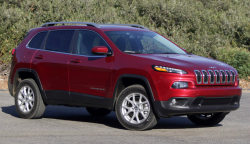 — Fiat Chrysler is recalling 1.4 million vehicles after one of its vehicles was hacked by two guys in a basement. The hacking attack, planned to show how hackers can take control of a vehicle, was carried out through the wireless network associated with the 8.4-inch touchscreen in a Jeep Cherokee.
Although calling it a "recall," owners won't have to worry about a trip to the dealership because the automaker will simply mail a USB drive to each owner. The automaker says a safety defect doesn't exist and the recall is ordered "out of an abundance of caution."
The vehicles affected are:
2013-2015 Dodge Viper
2013-2015 Ram 1500, 2500 and 3500
2013-2015 Ram 3500, 4500, 5500
2014-2015 Jeep Grand Cherokee and Cherokee
2014-2015 Dodge Durango
2015 Chrysler 200, Chrysler 300
2015 Dodge Charger
2015 Dodge Challenger
Fiat Chrysler says it has already applied security measures to block remote access to vehicle systems, all without an owner knowing about it because the changes occurred through the cellular network. Chrysler says everything was done on July 23, 2015.
Chrysler is emphasizing the hacking demonstration that led to the recall wasn't something that occurred out of thin air. The automaker says the hackers had long periods of direct exposure to a Jeep Cherokee, and writing the hacking code was a time consuming job.
The automaker might be the one currently taking heat for the hacking attack, but all vehicles that use wireless networks are vulnerable to an attack. In this event, it just happened to be a Fiat Chrysler vehicle used as an example.
The USB drive that will be sent to owners will be used to upgrade software that will work to provide additional security beyond what Chrysler has performed with the cell network. Additionally, the automaker says it's created an engineering team that will focus on software development and the prevention of hacking attempts.
Chrysler will do its job by sending the USB drive, but it will all be useless if owners don't use the device and upgrade the software. With questions or concerns, affected owners should contact the automaker at 800-853-1403 and refer to recall number R40.
Customers can also find out if their vehicle is recalled by visiting www.driveuconnect.com/software-update/ to input their vehicle identification number. If you supply your own blank USB drive, it's possible to download the update from Chrysler's website and install it yourself without waiting for the mailed USB drive.
Chrysler says its dealers will also handle the upgrade if you want to take the time to schedule an appointment, however, the automaker hasn't said when the recall will officially begin.
To read what caused Chrysler to order the recall, check out Hackers Take Control of a Jeep Cherokee, And it Ain't Pretty.
Read complaints about the vehicles named in the recall: