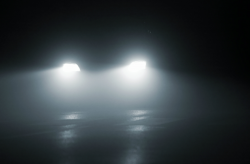 — General Motors is recalling about 181,000 cars to repair low-beam headlights that can go out, an expansion of a 2014 recall of 316,000 cars. The expanded recall includes almost 160,000 model year 2005 Buick LaCrosse and 2007 Pontiac Grand Prix cars in the U.S., and about 21,000 model year 2005 Buick Allure cars in Canada.
The original 2014 recall turned out to be a waste of time because GM says those cars will need to be repaired again because the first fix failed.
The defect is an overheating headlight module that can melt under the hood and cause the low-beam headlights and daytime running lights to go out. Although it could be a dangerous situation for the lights to go out at night, the automaker say it's unaware of any accidents or injuries related to the headlight modules.
The failure of the first recall is why the expansion was ordered after customers kept complaining after their vehicles had been repaired. Apparently the replacement part GM used during the first recall can fail and cause the headlights to fail.
All the vehicles in the original headlight module recall need to be repaired again. Bolded cars are part of the expansion.
2005 Buick LaCrosse / Allure (Canada)
2006-2009 Buick LaCrosse
2006-2007 Chevy TrailBlazer
2006 Chevy TrailBlazer EXT
2006-2007 GMC Envoy
2006 GMC Envoy XL
2006-2007 Buick Rainier
2006-2008 Saab 9-7X
2006-2008 Isuzu Ascender
2007 Pontiac Grand Prix
The bad headlight part was made by Delphi, but the supplier said the part wasn't used in any vehicles other than the recalled GM cars.
Buick owners may contact customer service at 800-521-7300, Chevy customers can call 800-222-1020 and GMC owners can call 800-462-8782.
General Motors hasn't released additional details about the headlight recall. To read what owners say about the vehicles named in the recall, click a model below.