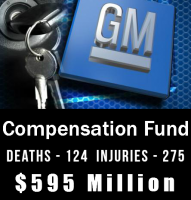 — The General Motors ignition switch compensation fund is closing its doors after sixteen months of approving and denying death and injury claims.
In total, the fund offered ignition switch victims $595 million that was approved to pay 399 claims. GM says over 90 percent of the offers were accepted by claimants and final payments have been made or in the process of being paid.
The compensation fund was created after GM admitted it hid dangerous defects in millions of ignition switches for a period of 10 years. The switch could easily move out of the "run" position and into the "accessory" or "off" positions with a simple bump of the knee to the key or key ring. Even a heavy key ring could cause the switch to move if the vehicle hit a small bump in the road.
With the switch out of the run position, the car would suddenly shut off and if the switch moved to the "off" position, all power was lost to the car. Power brakes, power steering and airbag function was lost. Some GM owners were convicted of crimes based on accidents that were eventually blamed on the faulty ignition switches. (Read about the convictions of GM owners LaKisha Ward-Green and Candice Anderson)
In creating the fund, GM says it ignored evidence of "contributory negligence" on the part of a driver, things that could have made it more difficult for a driver to win a case in court. GM said contributory negligence was a large contributing factor in many of the accidents that caused deaths and injuries.
The automaker said 61 percent of 399 eligible claims involved accidents where contributory negligence was known. Alleged incidents of negligence included no seat belt, speeding, falling asleep at the wheel, reckless driving and driving under the influence of drugs or alcohol. Some claims involved many of those factors combined.
GM said even though claimants would have serious challenges in court due to negligence, that negligence was ignored with 61 percent of the approved claims.
GM says to reach potential claimants, there were over 5 million notices sent by GM to current and former owners of eligible vehicle. Once a claim was submitted and reviewed, the compensation fund administrator didn't conduct scientific or engineering analysis if a death or injury was caused by a clear failure of the ignition switch.
Death Claims
Total Death Claims: 473
Eligible: 124
Ineligible: 349
Category One Injury Claims (Quadriplegia, paraplegia, double amputation, permanent brain damage and serious burns)
Total Category One Injury Claims: 280
Eligible: 18
Ineligible: 262
Category Two Injury Claims (Injuries that required medical treatment within 48 hours of the accident)
Total Category Two Injury Claims: 3,590
Eligible: 257
Ineligible: 3333
The total aggregate amount of compensation offered to claimants: $594,535,752