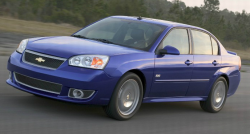 — Almost a year after General Motors recalled 1.3 million vehicles for power steering problems, the automaker announced an expansion of that recall to include an additional 69,000 cars. The newest recall involves the 2006-2007 Chevy Malibu / Malibu Maxx and the 2006-2007 Pontiac G6.
GM says the cars can experience a sudden loss of power steering at any driving speed. A driver would still have the ability to turn the wheel but it won't be easy, and it will make things more dangerous if the problem occurs while traveling at slow speeds or during a turn.
There won't be a warning before power steering is lost, but at the same time the steering gets difficult a warning message will be displayed and a chime will sound.
GM says the recalled 2006-2007 Chevrolet Malibu and Malibu Maxx cars were manufactured April 1, 2006, to June 30, 2006, and the 2006-2007 Pontiac G6 vehicles were built April 18, 2006, to June 30, 2006.
The automaker doesn't know when the power steering recall will begin but did say GM dealers will replace the torque sensor assembly.
Owners of the Chevy Malibu can contact the automaker at 800-222-1020, while owners of the Pontiac G6 can call 800-762-2737. In both cases, give customer service personnel recall number 14772.
The previous power steering recall included the same Malibu and G6 cars in addition to other models. However, the expanded recall will include cars made during a specific period -- April 1, 2006, to June 30, 2006.
Read complaints about the cars named in the power steering recall: