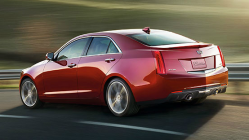 — Owners of the Cadillac ATS sedan may be starting to sweat as General Motors announces another recall of the sports sedans. GM says about 121,000 model year 2013-2016 Cadillac ATS sedans need repairs to prevent fires from occurring from the rear-window defrosters.
GM has received four confirmed reports of fires that resulted from the rear defroster overheating due to a weak electrical connection in the defroster module. The fires have been reported breaking out on the driver's side rear pillar where the defroster module is located.
GM believes the problem only occurs when the defroster has been running for long periods of time.
The automaker doesn't know when the ATS recall will begin but has said dealers will update the Electronic Climate Control module to remove the automatic rear defogger "on" function.
Owners of the recalled Cadillac ATS sedans may contact Cadillac customer service at 800-458-8006 and give them recall number 15299.
Speaking of owners sweating from problems with the ATS, 67,000 model year 2013-2015 Cadillac ATS sedans were recalled in February to fix sunroof switch problems.
Then in June 2015, the 2015 ATS was recalled to repair brake problems, followed by a July recall of 83,000 Cadillac ATS sedans for the same sunroof switch problems that caused the February recall.