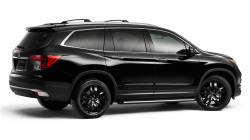 — Honda is recalling it's 2016 Honda Pilot to fix problems with seat belts located in the third row seats.
The National Highway Traffic Safety Administration says 1,358 Honda Pilots are involved and Honda says the number is "fewer than 1,700." According to Honda, it's believed only 20 of the SUVs are in the hands of owners, while all unsold SUVs will be repaired before they are shipped.
Honda says it discovered the problem in June when it found a pinched and trapped third row seat belt during the inspection of a 2016 Pilot. The automaker checked other vehicles and found four pinched seat belts and then checked the assembly line procedures. A determination was made that a safety defect exists, although there have been no warranty claims, accidents or injuries related to the pinched seat belts.
Specifically, the third row seat belt can become trapped between the rear seat and rear interior side panel. The pinched seat belt could cause problems with holding an occupant correctly in a crash.
The recalled SUVs were built from May 4, 2015, to June 5, 2015, and all will need the third row seat belts inspected and repaired.
The recall is expected to begin August 6, 2015. Owners of the 2016 Honda Pilot can call the automaker at 800-999-1009 and ask about recall number JS7. Honda owners can also quickly find out about any recalls by using their VIN and visiting www.recalls.honda.com.
Have a complaint about your Honda vehicle? Add your complaint here, or read what Honda Pilot owners say about their SUVs.