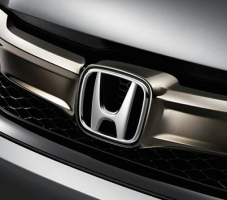 — Honda is recalling additional vehicles to replace passenger frontal airbag inflators made by Takata. The automaker says 127,000 model year 2003-2004 CR-V SUVs will be called back, adding to the 3.3 million passenger airbag inflators already recalled.
Takata recently found additional passenger airbag problems in the CR-V SUVs, about 78,000 that were included in past passenger airbag recalls. The recalled Honda vehicles that need new passenger-side airbag inflators are as follows:
2003-2007 Honda Accord
2001-2005 Honda Civic
2002-2004 Honda CR-V (all 2002 and certain 2003 CR-V previously included)
2003 Honda Element
2002-2003 Honda Odyssey
2003 Honda Pilot
2003 Acura MDX
Honda's recall isn't a surprise as the National Highway Traffic Safety Administration recently said more vehicles will be recalled to replace Takata airbag inflators. That announcement was made at the same time the government discovered an eighth airbag-related death had occurred in the U.S.
Safety regulators said the death happened to a teenage boy who was behind the wheel of a 2001 Honda Accord. The automaker has been hit hardest by the Takata airbag failures with all known deaths having occurred in Honda vehicles.
According to Honda, it has enough replacement parts to begin the nationwide recall on time, so CR-V owners should watch for mailed recall notices within the next 60 days.
While the overall Takata recall completion rate among all automakers is about 27 percent, Honda says its completion rate is 47 percent. The automaker has went to extremes to convince its customers to get the free repairs made at dealerships.
Some of the deaths and injuries that have occurred in Honda vehicles took place in vehicles that had been recalled, but owners never had the repairs performed.
With each action, Honda emphasizes the need to have the airbag repairs completed. To learn if your Honda vehicle is involved in the recall, visit www.recalls.honda.com or www.recalls.acura.com or call the automaker at 888-234-2138.
CarComplaints.com has owner-reported complaints about the 2003 Honda CR-V, 2004 Honda CR-V and other model years of Honda CR-V SUVs.