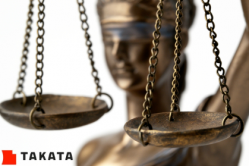 — Federal racketeering charges against Honda and airbag maker Takata can move forward after U.S. District Judge Federico Moreno refused to dismiss multidistrict litigation against the companies.
Over 100 vehicle owners and four auto recyclers accuse Honda and Takata of conspiring to conceal the airbags that can explode and maim and injure occupants.
The consolidated class-action lawsuit was filed after reports of eight deaths and about 100 injuries from Takata airbags that explode when they deploy. However, all economic loss claims will be heard separately from the personal injury claims. Honda, Takata's largest auto airbag customer, was dragged into the mess because of the number of deaths and injuries that occurred in Honda vehicles.
Judge Moreno said the charge of violations of the Racketeer Influenced and Corrupt Organizations (RICO) Act can proceed after finding the plaintiff claims plausible. The judge ruled the same concerning violations of the Magnuson-Moss Warranty Act.
The RICO charge stems from claims that Honda and Takata knew about the dangerous airbags and worked together to conceal the information from the public and safety regulators.
The plaintiffs allege the companies conspired to withhold the number of vehicles with defective airbags, number of injuries and the threat of severe harm from the exploding airbags.
All the airbags involved in the class-action used ammonium nitrate as the explosive chemical that deployed the airbags. That chemical is believed to be the reason the metal airbag inflators explode due to heat, age and humidity, as the chemical can become unstable when affected by moisture.
In addition to the warranty and RICO claims, the plaintiffs allege their vehicles aren't worth what they should be due to the defective airbags. Furthermore, vehicle owners say they would have never bought the cars if Honda and Takata would have admitted the airbags could slice a person to death.
Although the RICO charge involves Honda and Takata, other automaker are also included in the 453-page class-action lawsuit. Named in the massive lawsuit are BMW, Ford, Honda, Mazda, Nissan, Subaru and Toyota. Further claims against all the automakers include breach of warranty, unjust enrichment and fraudulent concealment.
The plaintiffs hope to reach the trial stage by April 2017.