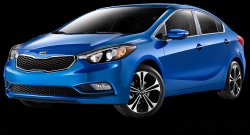 — The 2014 Kia Forte has a potentially serious problem that has caused a recall of almost 87,000 of those cars for a risk of fire. Kia says the 2014 Forte has a cooling fan resistor that can overheat and melt, leading to an increased risk of fire.
The automaker says it fixed the problem on unsold cars when it changed the specifications of the resistor and increased the clearance between the cooling fan and shroud. For those 87,000 Kia Forte cars that need repaired, the automaker says certain cars will require more work than others.
Forte owners whose cars were manufactured December 5, 2012, to January 27, 2014, will have the cooling fan resistor and multi-fuse unit replaced. The replacement parts will be more heat resistant than the previous parts.
For cars built between January 28, 2014, to April 17, 2014, only the multi-fuse unit will be replaced.
Kia Forte owners with the 1.8L engine will also have the engine control unit software updated.
The recall is expected to begin February 24, 2015.
Owners of the 2014 Kia Forte who have questions should contact Kia customer service at 800-333-4542 and give them recall number SC113.