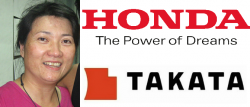 — News of airbag maker Takata being sued over injuries or deaths isn't really news any longer because it occurs on a regular basis. The same applies to Honda and the numerous lawsuits it's facing because of exploding airbags. However, those lawsuits have involved deaths and injuries inside the U.S.
For the first time since Takata airbags have been linked to injuries and deaths, a lawsuit has been filed in the U.S. for two fatalities that occurred from one airbag in a Honda car outside the U.S.
In July 2014, Law Suk Leh, 42, was eight months pregnant and driving her 2003 Honda City car in East Malaysia when she hit another vehicle at an intersection. Although her Honda City was traveling only about 20 mph, the Takata airbag deployed and caused the metal inflator canister to explode, sending sharp metal and plastic towards Leh.
Law Suk Leh suffered a severe puncture wound in her neck from a 1-inch diameter piece of metal from the airbag inflator. She died while being transported to the hospital. Although Leh was deceased, her unborn daughter (Elsa Mia Law Caido) was delivered at the hospital but sadly died three days later from injuries sustained in the crash.
After Leh's death, the 2003 Honda City she was driving was recalled to replace the defective airbag.
The lawsuit, filed by Leh's father, alleges Leh and her daughter would still be alive if Takata wouldn't have created a defective airbag and if Honda wouldn't have installed the airbag. Leh's father sued in the U.S. because the metal inflator was manufactured in LaGrange, Georgia.
Honda and Takata are accused of general negligence, gross negligence, reckless conduct and breach of warranty for manufacturing and selling airbag systems that kill, instead of protect, car occupants.
The wrongful death lawsuit was filed in the U.S. District Court Southern District of Florida, Miami Division - Law Ngee Chiong v. Takata Corporation, TK Holdings Inc., Inflation Systems Inc., Honda Motor Co., Ltd., Honda R & D Co., Ltd., American Honda Motor Co., Inc., and Honda of America Mfg., Inc.
The plaintiff is represented by the law firm of Motley Rice.