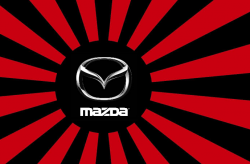 — Mazda is recalling over 923,000 vehicles in Japan because the ignition switches can catch on fire, and that's exactly what has happened 13 times. In the U.S., 1.2 million vehicles are recalled for the same problem.
The automaker says the following models are at risk of fiery ignition switches:
Mazda Demio
Mazda Familia
Mazda Eunos 100
Mazda Lantis
Mazda MPV
Mazda Bongo Friendee
Mazda Kronos MS-6
Mazda MX-6
Mazda Clef
Mazda MS-8
Mazda Capella
Mazda Sentia MS-9
Mazda Sentia
Mazda Presso AZ-3
Mazda Review
Mazda says the fires are caused by the grease used inside the switches, grease that can be affected by carbonization and cause electric current to keep running through the switches. Mazda says electrical current can keep running non-stop even when the cars are shut off and cause the switches to overheat.
The same problem caused Subaru to recall about 2 million cars in April 2015, and that recall affected Mazda cars because Suzuki built the cars for Mazda. The April recall involved the 1998-2009 Mazda AZ-Wagon, Carol and Laputa cars and the same ignition switch supplier was used by both Mazda and Suzuki.
Although 13 fires are known to have occurred in Mazda vehicles, the automaker says there haven't been any injuries or crashes caused by the switches.
The Japanese Ministry of Land, Infrastructure and Transport is riding Mazda for allegedly not responding quickly enough to consumer complaints. Not helping the matter is the fact the automaker has no idea when the vehicles will be repaired or when almost 1 million ignition switches will be available.
Read about the 1.2 million Mazda vehicles recalled in the U.S.