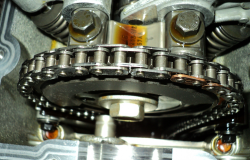 — MINI Cooper timing chain problems might finally be acknowledged and repaired after BMW agreed to settle a lawsuit that alleges the MINI Cooper engines can fail.
The lawsuit was filed by plaintiffs Joshua Skeen and Laurie Freeman, MINI Cooper owners who contend pistons and valves work too hard because of the timing chain tensioner. Named in the lawsuit are the 2007-2009 MINI Cooper R56 and the 2008-2009 MINI Cooper R55.
The plaintiffs claim the timing chain tensioner allows the pistons and valves to connect with too much force and leads to engine failure. Specifically, the lawsuit alleges the engines seize and lose all power while driving. The plaintiffs claim the MINI Cooper timing chains should last at least 10 years or 120,000 miles, but the alleged defect causes engine problems years too early.
According to the lawsuit, Joshua Skeen paid over $3,000 to replace the MINI Cooper engine with 74,000 miles on the odometer. Laurie Freeman says she paid over $1,300 for repairs to her MINI Cooper, and that was after the timing chain tensioner had already been replaced under warranty.
The lawsuit says BMW sold the cars by advertising the timing chain tensioners were better and would last longer because the chains are metal and not rubber. The plaintiffs claim the chain is supposed to be so good the timing chain and tensioners won't require service.
Based on plaintiff allegations, BMW has known since 2008 the timing chain tensioners have serious problems because the automaker issued a technical service bulletin to dealerships that year. The plaintiffs complain BMW has never offered to recall the MINI Coopers or pay to cover engine repairs.
If the settlement is approved by the judge, BMW will reimburse affected MINI Cooper owners all the cost of repairing or replacing the timing chain tensioner. In addition, the warranty will be extended to 7 years/100,000 miles.
The MINI Cooper timing chain lawsuit was filed in the U.S. District Court for the District of New Jersey - Skeen, et al. v. BMW of North America LLC.
The plaintiffs are represented by PinilisHalpern LLP, Raymond P. Boucher, Kiesel + Larson LLP, and Markun Zusman Compton LLP.