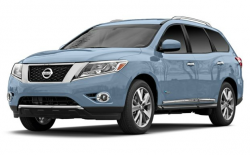 — Nissan seems to be having trouble with its airbags and the trouble marches forward as the National Highway Traffic Safety Administration (NHTSA) opens an investigation into passenger airbag problems.
This has been an ongoing issue for Nissan going back to 2013 when the automaker recalled 82,000 vehicles because the passenger airbags could fail in a crash.
A year later Nissan recalled a million vehicles for the same passenger airbag problems, then a year after that NHTSA opened a "recall query" to determine if Nissan's recall of the one million vehicles actually worked.
The saga continues as NHTSA announces an official investigation called an "engineering analysis" in an attempt to finally figure out the passenger airbag problems.
NHTSA says the vehicles under investigation are the 2013-2014 Nissan Altima, Pathfinder, Sentra and LEAF; 2013 Infiniti JX35; 2014 Infiniti QX60 and Q50 and the 2013 Nissan NV200.
Nissan told safety regulators the problems are caused by the occupant classification system algorithm that can turn off the front passenger airbag even though an adult is in the seat.
NHTSA says many Nissan and Infiniti owners report dealers making multiple attempts to repair the problem, yet the airbags continue to deactivate. The government said it's evident the repairs aren't working because 124 complaints have been filed after repairs were made.
The government says Nissan has received about 1,121 complaints and field reports on the recalled vehicles and NHTSA separately has received 208 complaints about the passenger airbags.
The engineering analysis is the final step before the investigation will be closed without taking further action, or Nissan will order a recall of the vehicles.
Read complaints about the Nissan vehicles named in the airbag investigation: