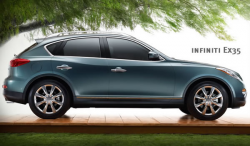 — Nissan is recalling 17,000 vehicles because problems with the steering column can make the steering wheel useless. If the steering wheel doesn't completely fail, it could still have so much play in it you'll stay busy trying to keep the car between the lines.
Nissan names the recalled vehicles as the 2008 Infiniti EX35, 2009 Nissan GT-R and the 2009 Infiniti FX35/FX45.
Nissan says a manufacturing problem at the supplier caused problems with the outer tube on the steering column. In the words of the automaker, the outer tube might have been manufactured "out-of-round." The wrong specifications can cause stress at the upper bearing and cause the bearing retainer to fracture. Once broken, the steering wheel will move without turning the vehicle as intended.
Nissan says the recalled 2008 Infiniti EX35 vehicles were manufactured June 29, 2007, to April 25, 2008, the 2009 Infiniti FX35 and FX45 were manufactured October 31, 2007, to April 16, 2008, and the 2009 Nissan GT-R vehicles were built March 14, 2007, to April 25, 2008.
The National Highway Traffic Safety Administration hasn't released a schedule of when the recall will begin. Nissan says its dealers will replace the steering shaft on the Infiniti EX35, FX35, and FX45 and replace the steering column assembly on the Nissan GT-R.
Owners with questions should call Infiniti customer service at 800-662-6200 or Nissan at 866-668-1487.
Read what owners say about the vehicles named in the recall: