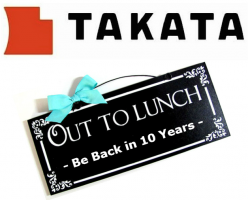 — Honda, Nissan and Toyota have announced they will recall an additional 11.5 million vehicles worldwide to replace defective airbag inflators made by Takata.
Although the root cause hasn't been determined for the exploding airbags, the current consensus is heat and humidity can affected the metal inflators inside the airbags.
The airbags use ammonium nitrate as the explosive force behind the deployment of the airbags. Former Takata engineers have accused the company of using the explosive because it's cheap. However, while it might be cheap, ammonium nitrate can become unstable if affected by moisture.
It's yet to be determined if moisture affected the explosive chemical at the factory, or if the metal inflators can crack over time and allow moisture to enter the inflators.
Honda
Honda said it is recalling almost 5 million vehicles, but none of the vehicles are located in the U.S. The automaker didn't say which models and model years were affected. As for Honda overall, six confirmed deaths have been in Honda vehicles.
Nissan
Nissan said it was recalling about 1.5 million cars, with 264,000 model year 2004 Pathfinder and 2004-2006 Sentra vehicles located in the U.S.
The 2004 Pathfinders were manufactured January 6, 2004, to July 19, 2004, and the 2004-2006 Sentra cars were built January 7, 2004, to August 26, 2006.
Nissan dealers will replace the passenger airbag inflators starting on June 15, 2015. Owners of the 2004 Pathfinder and 2004-2006 Sentra can contact Nissan at 800-647-7261.
Toyota
Toyota's Takata airbag recall is a confusing thing to see. Over 5 million of the vehicles are outside the U.S., and the recalls announced for the U.S. are based on expansions of various previous airbag recalls. Additionally, some of the recalled Toyota vehicles are located in areas of high absolute humidity only.
Toyota RAV4
One recall for the U.S. includes about 160,000 model year 2004-2005 RAV4 SUVs that will have their front driver-side airbag inflators replaced.
Toyota says RAV4 owners will be notified by mid-July 2015, or if parts aren't available, RAV4 owners will be notified of that.
Owners of the 2004-2005 RAV4 may contact Toyota customer service at 800-331-4331.
Toyota Tundra and Sequoia
About 177,000 model year 2003-2004 Tundra and 2004 Sequoia trucks will also need the driver-side front airbag inflators replaced. This is an expansion of a nationwide Toyota recall from April 2014.
Toyota doesn't know when the Tundra and Sequoia recall will begin. Owners with questions can contact Toyota at 800-331-4331.
Toyota Corolla, Corolla Matrix, Sequoia, Tundra, Lexus SC
These models were recalled in 2014 and now another 300,000 will be added to cover additional model years. The automaker says the front driver-side Takata airbag inflators will be replaced in the following vehicles.
2005-2007 Toyota Corolla
2005-2007 Toyota Corolla Matrix
2005-2007 Toyota Sequoia
2005-2006 Toyota Tundra
2005-2007 Lexus SC
2005-2007 Pontiac Vibe
However, the recall includes vehicles in only the following areas known for high absolute humidity: Coastal areas around the Gulf of Mexico for Texas, Alabama, Mississippi, Georgia, Louisiana and Florida. Additional areas include Puerto Rico, Guam, Saipan, American Samoa, the Virgin Islands and Hawaii.
Toyota says owners should watch for mailed recalled notices, but the automaker didn't say when the recall will begin.
Owners may contact Toyota customer service at 800-331-4331. Pontiac Vibe owners can contact GM at 800-762-2737.
This is just the latest blow to Takata, which is already paying a $14,000 per day fine to the National Highway Traffic Safety Administration for not providing adequate answers to NHTSA's questions. That daily fine has been going on since February 20, 2015.
This latest group of recalls brings the total number of Takata airbags recalled since 2008 to about 36 million.