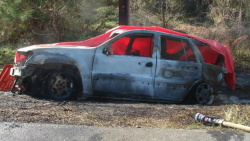 — The family of Remington Walden has been awarded $150 million after a Georgia jury found Chrysler guilty in the death of the 4-year-old boy. The lawsuit accuses Chrysler of knowing since the 1970s the location of the gas tank in Jeep SUVs were infernos waiting to happen, but chose to ignore the dangers.
Remington was killed in 2012 while riding in a booster seat in the back of a 1999 Jeep Grand Cherokee. The Jeep was stopped and waiting to turn left when the driver of a Dodge Dakota ran into the rear of the Grand Cherokee. The crash caused the Jeep gas tank to explode in a ball of flames while witnesses watched in horror as Remington burned to death.
Remington's family filed a wrongful death lawsuit against Chrysler for design flaws in the placement of the gas tank, located behind the rear axle.
In June 2013, the National Highway Traffic Safety Administration asked Chrysler to recall 2.7 million Jeep Grand Cherokee and Jeep Liberty SUVs, a request Chrysler refused. After taking a pounding from customers and safety advocates, Chrysler agreed to recall 1.5 million Jeeps.
However, the recall wouldn't have helped the 1999 Jeep Grand Cherokee because that SUV wasn't part of the Chrysler recall.
The so-called "remedy" was to install a trailer hitch to help protect the Jeep gas tank in a rear-end crash, a remedy Chrysler admitted would do nothing in a severe crash.
The jury in the Walden trial listened for two weeks as experts on both sides presented their cases. Chrysler has always argued the Jeeps aren't unsafe even though the government believes at least 50 deaths can be attributed to the location of the gas tanks.
Lawyers for Chrysler blamed the driver who hit the Jeep and argued the fire didn't cause Remington's death, an argument that failed with jurors.
In awarding Walden's family a verdict of $150 million against Chrysler, the jury ruled Chrysler's "reckless and wanton disregard" was 99 percent responsible in Remi's death.
The Walden family is represented by Butler Wooten Cheeley & Peak LLP.