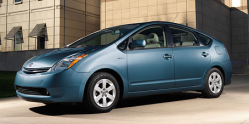 — A Toyota Prius gas mileage lawsuit isn't out of fuel even after an ongoing six-year court battle. The Prius lawsuit was filed in 2009 by Greg Reynante after he alleged Toyota knew the Prius couldn't get the fuel efficiency that was promised in marketing materials.
The Toyota Prius lawsuit alleges the automaker misled consumers regarding the fuel efficiency in the 2004-2007 Prius Hybrid. The lawsuit specifically alleges people were misled by Toyota's marketing materials that violated consumer laws.
Further, the plaintiff claims anyone who purchased or leased the 2004-2007 Prius suffered damages based on misleading and/or false statements about Prius fuel efficiency and the cost savings.
The lawsuit says Toyota ignored the effects of weather, the use of air conditioning and other things can influence mileage estimates. After six years of legal wrangling and back-and-forth claims from both sides, the lawsuit is still moving forward based on California Unfair Competition Law and the California Consumers Legal Remedies Act.
Toyota says it has done nothing wrong by advertising gas mileage values as estimated by the Environmental Protection Agency.
The Toyota Prius gas mileage lawsuit was filed in the Superior Court of the State of California, County of Los Angeles - Reynante, et al. v. Toyota Motor Sales, USA, Inc. et al.
The plaintiff is represented by Capstone Law APC.
CarComplaints.com has complaints submitted by owners of the Toyota Prius, including for the model years named in the gas mileage lawsuit: