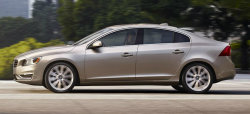 — Volvo is recalling 7,855 cars in the U.S. and 23 cars in Canada to fix fuse problems that cause the cars to die in the middle of traffic.
The recalled cars are the 2016 Volvo S60, V60, V60CC, XC60, XC70 and Volvo S80. All the cars are equipped with 4-cylinder engines with the vehicle identification number codes 26, 40 and 49.
The automaker determined the cars can shut off in certain driving situations due to a blown starter motor fuse. The blown fuse will cause the car to immediately die without warning, a problem that occurs when using the automatic engine stop/start feature.
The affected Volvo cars were built April 8, 2015, to August 19, 2015.
Volvo says a driver can avoid the problem by pressing the stop/start button and thereby disabling the stop/start function. The button is located in the center stack console. The procedure would need to be repeated after every engine start, at least until the car is repaired.
The recall should begin October 12, 2015. Volvo dealers will replace the starter motor fuse with a fuse with higher amperage.
Volvo owners with questions can call 800-458-1552 and use recall number R39574.
Read what owners say about the Volvo cars named in the starter motor fuse recall: