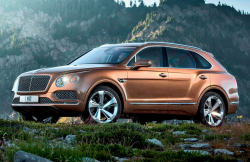 — Bentley is recalling 378 cars with a base price of $230,000 each so dealers can fix seat mechanism and instrument panel joints.
The recalled 2017 Bentley Bentayga is one of the fastest SUVs on the planet with a top speed of 187 mph and capable of 0-60 mph in 4.0 seconds.
The automaker says the SUVs experienced assembly problems that caused the seat mechanism and instrument panel joints to be improperly tightened. Those loose joints can be trouble, especially in the event of a crash.
Bentley says the Bentayga SUVs were built March 1, 2016, to September 30, 2016, and the recall was ordered so dealers can tighten the loose instrument panel and seat joints.
Bentley recently mailed recall notices to owners, but with questions, contact the automaker at 800-777-6923 and refer to recall number RE16/32.
Have a car complaint to add? Add your complaint here, about any vehicle.