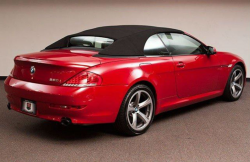 — A BMW 6 Series convertible top lawsuit may finally be settled after owners sued BMW over "Top Not Locked" messages that appear because the convertible tops fail to fully close or open.
The plaintiff in the case says his BMW E64 (6 Series) convertible top is a safety hazard and an expensive one to fix, arguing in the lawsuit that repairs can cost up to $5,000 to keep the top closed and erase the "Top Not Locked" warning message.
The plaintiff, Robert Gray, says BMW's manual says it is dangerous to drive with the convertible tops partially open or closed, yet BMW failed to inform consumers the tops were defective because those consumers would then buy or lease from a different company.
Gray says he experienced convertible top problems in two BMW cars that occurred just months after he bought the cars.
According to the lawsuit, filed in 2013, it's sometimes impossible to open the trunks once the "Top Not Locked" warning appears, leaving owners no way to access the contents of the trunks.
BMW issued technical service bulletins about the convertible tops to inform dealers what to do if 6 Series owners complained, but the lawsuit alleges repairs only fixed the tops temporarily.
In addition, the lawsuit alleges BMW clearly knew about the problems because the automaker told its dealerships how to handle complaints about convertible tops that didn't completely open or close.
BMW partially won a motion to dismiss the lawsuit in 2014 but the judge allowed certain claims to continue, something cheered by the approximately 31,000 affected BMW 6 Series Convertible owners and lessees.
The lawsuit includes former and current owners and lessees of 2004-2010 BMW 6 Series Convertible cars and if approved by the court, owners and lessees can receive a software update and a one-year warranty on the top. However, the update will need to be completed within a year of the finalized settlement agreement.
In addition, 6-Series lessees and owners will be reimbursed for the replacement or repairs of the convertible tops.
The BMW 6 Series convertible top lawsuit was filed in the U.S. District Court for the District of New Jersey - Gray, et al. v. BMW of North America LLC, et al.
The plaintiffs are represented by Mazie Slater Katz & Freeman LLC, EcoTech Law Group PC, and Strategic Legal Practices APC.