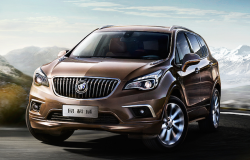 — General Motors is recalling more than 48,000 cars and SUVs in two recalls, one to fix a risk of fires and the other to correct misprinted labels.
Buick Regal Recall
Nearly 43,000 model year 2011 Buick Regal cars need repaired due to possible problems with the power adjustable seat wiring harnesses.
In December 2015, a consultant in the engineering analysis group filed a report concerning a customer complaint of a fire that occurred under the front passenger seat of a 2011 Buick Regal. GM investigated past data and although no other incidents of fires were reported, the data showed possibly similar incidents in 2011 Buick Regal driver seats.
GM's investigation revealed that 2011 Regal vehicles equipped with 8-way power adjustable front seats built at the GM-Opel Russelsheim plant in Germany had a potential for wiring harness chafing. Then the problem seems to have intensified because the automaker thought it made improvements during production but now says the changes may not have helped.
GM also learned a plant in Canada manufactured 2011 Buick Regal cars, but the cars from that plant used a different wiring harness and routing that did not present a similar potential for chafing.
General Motors doesn't know when the Regal recall will begin, but dealers will inspect and secure the wiring harnesses and repair chafed wiring.
Owners of the Buick Regal can contact Buick at 800-521-7300 and use recall number 30710.
Buick Envision Recall
Tire label problems are the cause of the second GM recall, this time of more than 4,500 model year 2016-2017 Buick Envision SUVs.
In June 2016, General Motors was notified by dealers that two SUVs had incorrect tire and loading information labels concerning the maximum combined weight of occupants and cargo. GM opened an investigation and found a discrepancy in the weight ratings specified on the vehicles' certification which should have read a maximum combined weight of occupants and cargo of 952 lbs.
Following directions on incorrect weight labels could cause a driver to overload the Envision, leading to stability problems and possible ruptured tires.
As with the first recall, GM doesn't know when the tire label recall will begin. Buick dealers will install a corrected weight label on the Envision SUVs once the recall begins.
Owners of the Buick Envisions who have questions should call 800-521-7300 and ask about recall number 56340.
CarComplaints.com has complaints about numerous models of Buick vehicles.