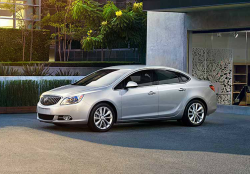 — General Motors is recalling 189 model year 2016 Buick Verano cars at risk of catching on fire due to gas leaks. The 2-liter turbocharged engines have gas lines that can touch the surface of the engines.
In June 2016, a GM employee was surprised by a fire while driving a 2016 Buick Verano and in July GM opened an internal investigation. The problem was tracked to a fuel line leak caused by the misrouting of the line over the hot turbocharged engine. The automaker investigated 75 Veranos and found 54 with fuel lines misrouted over the engines, all that were built after February 16, 2016.
After checking with the supplier, General Motors found fuel lines that were not shaped correctly, causing the lines to touch the engines once installed in the vehicles. The supplier investigated and determined the machine operator responsible for the lines apparently wasn't trained well enough.
Other than the fire that happened to the GM employee, the automaker doesn't know of any other incidents.
The 2016 Buick Veranos were manufactured February 16, 2016, to May 12, 2016.
The recall should begin around August 18, 2016, when dealers will replace the fuel line assemblies.
If you own one of the recalled 2016 Buick Verano cars and have questions, call Buick at 800-521-7300 and ask about recall number 54180.
CarComplaints.com has complaints about Buick Verano cars.