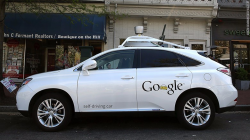 — Driverless car guidelines issued by the National Highway Traffic Safety Administration (NHTSA) will have an effect on the state of California, and officials in California seem pleased that NHTSA is butting in.
Officials with the California Department of Motor Vehicles (DMV) admit they don't have the expertise to handle the subject of self-driving cars and the guidelines released by NHTSA will take some of the heat off the DMV. Currently 15 companies have been issued permits to test self-driving cars on California roads.
The California DMV released its proposed rules for driverless cars in December 2015 and quickly came under fire from companies concerned about testing its technology on California roads. Google led the charge against California after the DMV said driverless cars would in fact need drivers, something that may change since NHTSA's guidelines were issued.
California officials say they are happy to do the job NHTSA will leave to the states, primarily the job of registering and licensing driverless cars. In addition, states will have the responsibility of handling legal issues with autonomous vehicles and technology.
The DMV revised its proposed rules after NHTSA issued its guidelines, and those revised California rules say automakers must certify they followed NHTSA's 15-point checklist before the cars can be tested on California roads.
The Obama administration wants automakers to sign a pledge to obey a 15-point checklist describing how autonomous technology works and how the technology is safe for consumers. But according to auto safety advocates, NHTSA should mandate rules and regulations about the cars and not leave it up to automakers to make empty promises about voluntary agreements.
Officials with the federal Department of Transportation say voluntary self-driving guidelines will be fine because those officials believe automakers will be happy to follow voluntary guidelines, a stance that safety advocates say is nonsense.
However, Toyota is already complaining about the issue because California allegedly wants to force a "voluntary" checklist onto automakers. Toyota says current road testing would have to be stopped and upcoming testing delayed if automakers are forced to provide the 15-point checklist.
Part of California's revised rules include changes concerning a human driver, with the new proposed rules allowing for a driver to literally not drive because there won't be a steering wheel in the car. The DMV says that will be possible as long as federal safety regulators allow it.
According to the revised DMV rules, manufacturers will be required to self-certify that their products meet all NHTSA vehicle performance guidelines. To test vehicles without traditional controls like steering wheels and brake pedals, a manufacturer must prove the vehicles comply with all federal laws, or provide documentation that NHTSA will allow the vehicles to be tested.
California also says a driverless car must have a two-way communication link between a remote operator and any vehicle occupants and whether a car needs a licensed drivers will be based on "levels" created by the Society of Automotive Engineers (SAE).
The SAE has identified levels of autonomous technology, from driver-assistance features to higher levels where vehicles don't need a driver.
SAE Level 3: The automated system can handle some parts of the driving and monitor the driving environment in some instances, but a human driver must be ready to take back control when the automated system requests. (Requires a licensed driver)
SAE Level 4: An automated system that can conduct the driving task and monitor the driving environment and the human need not take back control. However, the automated system can operate only in certain environments and under certain conditions. (Does not require a licensed driver)
SAE Level 5: The vehicle performs all driving tasks under all conditions that a human driver could perform. (Does not require a licensed driver)
California also addressed the subject of what happens when a crash occurs involving an autonomous vehicle. The DMV says in the event of a crash, a manufacturer must release all sensor data about the event and provide the data to law enforcement within 24 hours of a request for the data.
Then there is the issue of marketing, something Tesla knows all too well with its use of the word "Autopilot." California officials say marketing materials that use terms such as "self-driving," "automated," "autopilot" and other similar terms must meet all truth in advertising laws concerning vehicles.
Read the latest news about "highly automated vehicles" (HAVs).