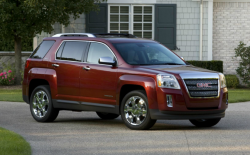 — Owners of 2011 Chevrolet Equinox and 2011 GMC Terrain SUVs who have complained about excessive oil consumption problems may receive help from General Motors based on technical service bulletin (TSB) 15285C.
Owners of the SUVs say their vehicles consume oil at excessively rapid rates and cause constant refills and repairs. The 2011 Chevy Equinox and GMC Terrain SUVs are equipped with 2.4-liter gas engines, vehicles that have come under previous service bulletins for the same oil consumption issues.
GM describes excessive oil consumption as a vehicle that uses a quart of oil every 2,000 miles or less and blames the problem on wearing of the piston rings.
Owners of the 2011 Chevrolet Equinox have complained about tossing out money for oil then facing the prospect of expensive engine repairs.
"It is using a quart of oil every 450 miles. THIS IS NOT NORMAL. Suggestion is rings and seals or a new engine. They did offer us an extra $1,000 if we wanted to trade it for a new GM product. Why would I want another one?" - 2011 Chevrolet Equinox owner / Rochester, Minnesota
"My 2011 Chevrolet Equinox 2.4L Used 4 qts of oil in less than 5,000 miles. When I saw the Chevy Equinox I decided to buy it without enough research. I was lulled into believing that the US car makers had learned their lesson, when the Japanese car makers almost put them out of business in the 1980's, with higher quality long lasting cars. It looks like I was wrong." - 2011 Chevrolet Equinox owner / South Lyon, Michigan
However, other owners have complained about the results of those expensive engine repairs.
"According to invoice replaced 1 Piston, gasket and chain! It now runs worse then before! Idles at 500 rpm." - 2011 Chevrolet Equinox owner / El Paso, Texas
Chevy and GMC dealers were told in previous technical service bulletins to install updated engine control module calibration and perform an oil consumption test. This time dealers are told to diagnose the problem and replace the pistons.
General Motors says repairs will be made free of charge based on warranty coverage extended to 7.5 years or 120,000 miles, whichever comes first. The coverage begins from the date of sale of the SUV.
If you own a 2011 GMC Terrain or Chevy Equinox and experience excessive oil consumption, contact your local dealership and ask about TSB 15285C.
CarComplaints.com has received complaints about excessive oil consumption in the 2011 Chevrolet Equinox and 2011 GMC Terrain: