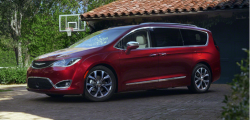 — Fiat Chrysler is recalling more than 3,500 Pacifica minivans to fix problems with the rear seat belts.
The 2017 Chrysler Pacifica minivans have overhead seat belt stow clips that can break and cause the seat belts to be useless in a crash. The clips can also turn into projectiles and cause harm to occupants.
The issue first popped up on March 26 when an assembly plant discovered busted seat belt overhead stow clips on the second and third back seats. Chrysler determined the supplier made changes to its tooling process and caused errors in the materials of the stow clips, so a change to something called "Celcon acetal copolymer grade M90" was ordered to strengthen the stow clips.
The recalled 2017 Chrysler Pacifica minivans were manufactured February 22, 2016, through April 28, 2016.
Chrysler doesn't know when the 2017 Pacifica recall will begin, but dealers plan on replacing the overhead seat belt stow bezels in the minivans.
Chrysler Pacifica owners with questions may contact the automaker at 800-853-1403 and refer to recall number S42.
CarComplaints.com has complaints you can read about Chrysler Pacifica minivans.